ISSN print edition: 0366-6352
ISSN electronic edition: 1336-9075
Registr. No.: MK SR 9/7

Published monthly
Magnetic MnFe2O4 Core–shell nanoparticles coated with antibiotics for the ablation of pathogens
Neda Akhlaghi, Ghasem Najafpour-Darzi, Alexandre Barras, Maedeh Mohammadi, Rabah Boukherroub, and Sabine Szunerits
Biotechnology Research Laboratory, Faculty of Chemical Engineering, Babol Noshirvani University of Technology, Babol, Iran
E-mail: najafpour@nit.ac.ir
Received: 27 February 2020 Accepted: 6 August 2020
Abstract:
Emerging β-lactam antibiotic resistance necessitates the development of new therapeutic approaches. One approach to counteract this issue is the use of nanoparticles (NPs) for antimicrobial agent delivery. In this work, superparamagnetic MnFe2O4 NPs were synthesized via a simple co-precipitation method followed by coating with a SiO2 shell using tetraethoxysilane (TEOS) to prevent agglomeration and also increase the density of hydroxyl groups on the surface of MnFe2O4 NPs. The resulting MnFe2O4@SiO2 nanostructures were further functionalized with 3-aminopropyltriethoxysilane (APTES) to introduce NH2 groups on the surface of NPs for covalent grafting of ampicillin (AMP), β-lactam antibiotic. The MnFe2O4@AMP NPs proved to be highly effective for the eradication of Escherichia coli bacteria with a minimum inhibitory concentration (MIC) equivalent to 4 µg/mL of immobilized AMP, lowered by 50% compared to free AMP. The intrinsic multivalence effect of the nanostructures as well as the protection of the COO− group of the antibiotic from the attack of β-lactamase enzyme is believed to be responsible for enhanced efficiency of the hybrid compared to free AMP.
Graphic abstract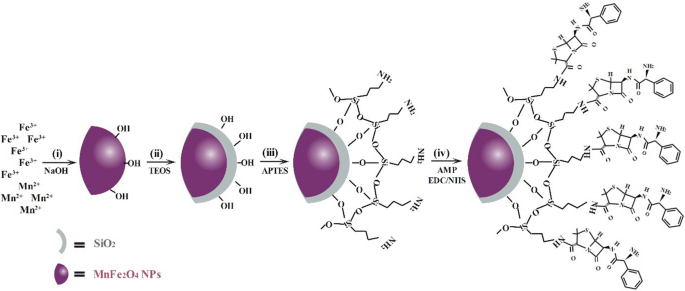 Keywords: Ampicillin; Antimicrobial delivery; β-lactam antibiotic; Core–shell nanostructure; Escherichia coli
Full paper is available at www.springerlink.com.
DOI: 10.1007/s11696-020-01306-y
Chemical Papers 75 (1) 377–387 (2021)