ISSN print edition: 0366-6352
ISSN electronic edition: 1336-9075
Registr. No.: MK SR 9/7

Published monthly
Newly synthesized metal complexes of sulfonamides: DNA cleavage, BRCA1 gene interaction, expression analysis, antioxidant and antiglycation studies
Arusa Akhtar and Muhammad Danish
Department of Chemistry, University of Gujrat, Hafiz Hayat Campus, Gujrat, Pakistan
E-mail: arusachaudry@gmail.com
Received: 24 July 2021 Accepted: 14 September 2021
Abstract:
Metal complexes [Zn(II), Co(II), Ni(II), Mn(II) and Cu(II)] of sulfonamide 4-((4-chlorophenylsulfonamido)methyl)cyclohexanecarboxylic acid have been synthesized and characterized. The crystal structure of bis[4-[(4-Chloro-benzenesulfonylamino)-methyl]-cyclohexanecarboxylate cobalt (II). 4H2O (AZ-7) has been determined by X-ray crystallography showing square planar bipyramidal confirmation. Interaction studies of these compounds with DNA have been carried out through molecular docking studies, followed by nuclease activity using the agarose gel electrophoresis method. All the compounds have been found to cleave DNA. The interaction of these synthesized compounds with the DNA sequence of breast cancer suppressor gene 1 (BRCA1) has been studied using gel electrophoresis. For this study, two BRCA1 primers (B1E11A & B1E11B (exon11)) were selected and amplified through PCR reaction. After treatment with compounds, the expression analysis of BRCA 1 gene was also performed to quantify the expression relative fold-change (2−(∆∆CT)). The synthesized compounds were also evaluated for their antiglycation activity. The molecular docking study was carried out to support the experimental results. To further support this study, the antioxidant activity of these compounds was also performed. From all these studies, it has been proved that the Zn and Cu complexes were more effective and could be a potential source of cancer therapeutic agents.
Graphic abstract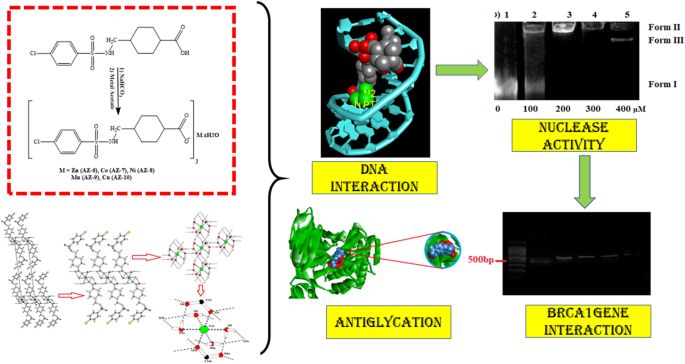 Keywords: Transition metal complexes; DNA interaction and cleavage; BRCA1 gene interaction; Expression analysis; Antiglycation; Antioxidant
Full paper is available at www.springerlink.com.
DOI: 10.1007/s11696-021-01878-3
Chemical Papers 76 (1) 515–532 (2022)