ISSN print edition: 0366-6352
ISSN electronic edition: 1336-9075
Registr. No.: MK SR 9/7

Published monthly
Synthesis of metallic copper nanoparticles in aqueous solution by surfactant-free reduction and silica coating
Hikaru Hayashida, Noriko Yamauchi, Kouichi Nakashima, and Yoshio Kobayashi
Department of Materials Science and Engineering, Graduate School of Science and Engineering, Ibaraki University, Hitachi, Japan
E-mail: noriko.yamauchi.12@vc.ibaraki.ac.jp
Received: 4 November 2019 Accepted: 26 February 2020
Abstract:
Abstract
A safe, simple, and low environmental impact method for controlling the oxidation and aggregation of metallic copper (Cu) nanoparticles has yet to be developed. This paper describes the synthesis of metallic Cu nanoparticles dispersed in water fabricated by a surfactant-free method and silica coating of metallic Cu nanoparticles. A colloid solution of metallic Cu nanoparticles was prepared from Cu(CH3COO)2 (Cu source), hydrazine (reducing reagent), and citric acid (stabilizer) in water in air. Silica coating of the metallic Cu nanoparticles was performed by adding sodium silicate to the metallic Cu nanoparticles in water. The silica-coated nanoparticles had a particle size of 99.2 ± 34.8 nm, a silica shell thickness of 5.8 nm, and a crystal size of metallic Cu of 28.5 nm. The metallic Cu nanoparticles in the silica-coated particles were not so oxidized even with annealing in air at 200 °C: the silica shells functioned as a physical barrier to control oxidation of the metallic Cu nanoparticles.
Graphic abstract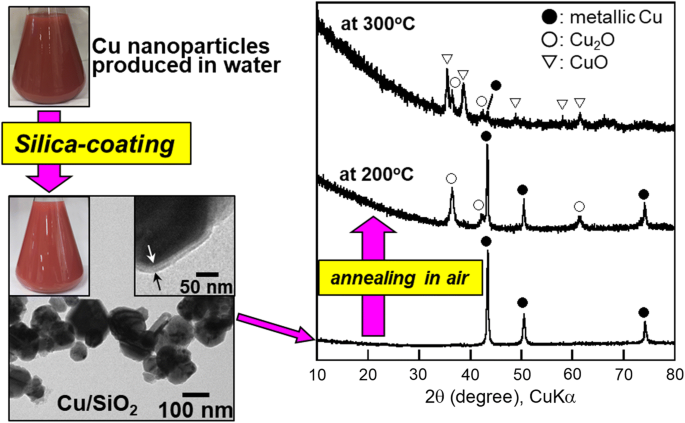 Keywords: Nanoparticle; Copper; Silica; Coating; Sodium silicate
Full paper is available at www.springerlink.com.
DOI: 10.1007/s11696-020-01121-5
Chemical Papers 74 (9) 2813–2820 (2020)